7 Things To Do With Pinecones
Thing #1 – Leave them on the ground and let them turn into pine trees like God intended. Because unless you have a herd of toddlers to put to work, why the hell would you waste perfectly good time picking up pine cones?*
First, bake them in the oven at 250 for 20 minutes to kill the spiders/bugs/nasty fungus stuff that might be living in them. Because nothing ruins the charming fall decor at your dinner party like poisonous spider bites as parting gifts for your guests.
Thing #2 – Roll them in acrylic paint and put them in a rustic basket as a centerpiece.
Thing #3 – Spray paint them and put them in a glass vase.
Thing #4 -Wrap the stem ends in yarn and make a garland.
Thing #5 – Cover them with spray adhesive and glitter and hang them up.
Thing #6 – Spread them with peanut butter and bird seed to make a bird feeder.
Thing #7 -Make scented potpourri: Put them in a ziplock bag & spray with adhesive, add cinnamon/cloves/lemon zest/pumpkin pie spice. Close & shake, open and sniff.
TA-DA! You just wasted your entire stay-at-home-lazy-day making pointless pinecone crafts!
*No toddler labor was exploited in the making of these crafts. Ok, maybe just a LITTLE toddler labor. But they liked it.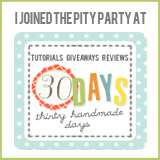 Tags: autumn, Christmas, crafts, fall, fun, glitter!, handmade, paint, winter, yes glitter! needs and exclaimation point