Upcycled: Wool Sweaters to Felt Flowers
You would not BELIEVE how many perfectly good, brand new wool sweaters I've ruined in my washing machine. Dozens. Maybe hundreds. Until I started knitting and learned to actually appreciate fiber I always saw those "HANDWASH COLD ONLY" and "LAY FLAT TO DRY" rules more like…guidelines. I was too lazy and forgetful to separate stuff before throwing it all in the wash. And yet I was always shocked and devastated when my previously human-sized sweaters came out of the dryer doll-sized and stiff.
That shrinking process is called "felting" and this week I did it on purpose so I could turn wool sweaters into crafty felt flowers.
Since all the sweaters I've ruined recently are black, I went to Goodwill to hunt through the racks.
The trick is to find sweaters made of 100% WOOL. Not 70% acrylic, 30% wool or some other synthetic blend. You also want to watch out for items that have "machine washable" on the tag or say anything like "Super Wash" or "No Shrinking!" That sort of defeats the whole purpose here. In theory, you could use other animal fibers – the light pink sweater is actually 100% cashmere – but I found it didn't felt up as nicely as the wool ones.
I did pretty well with what I bought – the white one in the front didn't have a tag and I suspected it wasn't real wool so I wasn't shocked when it didn't felt. But it's clearly hand made and was only $3 so I'll just wear it. The scarf didn't felt either, but again, not big loss. New scarf for me!
Now you're going to shrink the sweaters on purpose to make felt you can craft with.
Follow these steps:
1. Throw sweaters in the washing machine with a little detergent.
2. Set machine to Hot Wash/Cold Rinse and push start.
3. Walk away.
And you're done.
I found a lot of instructions online that wanted you to put the items you were felting in a mesh bag or pillowcase or toss in a tennis ball or some other heavy item but I had the best luck with the straight up washing machine. Since the goal here is to make the fibers as dense and stiff as possible so you can cut it up, you can even toss the whole mess in the dryer on high when they're done washing. If you're not happy with how felty they look after 1 wash, repeat the cycle.
If your sweater wasn't wool to begin with it will become very clear right about now, because they will not look like this:
Now comes the crafty part. If you're creative on your own just stop reading and go do something awesome with your new wool felt. The rest of my project isn't that impressive. But if you want some ideas, read on.
My first thought was to cut out actual flower shapes and sew them together. I found flowers to use as templates online, traced them onto cardboard, and cut out the cardboard shapes to trace onto the felt:
Unfortunately, tracing the shapes onto the felt was WAY too much work for me, especially with a toddler trying to crawl across the table every two seconds. If you can think of an easier way let me know (Maybe I should pin them? Maybe I can cut with an X-acto knife to avoid the tracing?) but I recommend stick to shapes you can free-hand. I have the cutting skills of a second grader so flowers and stars come out as lopsided blobs – but since you're a grown up you can definitely do better.
Luckily, I can do a lot with just one or two fancy shapes and a few easily cut circles and leaves.
I'm sort of ridiculously pleased with my flowers. For the record, I made all these from just the bottom part of one sleeve from each sweater – I still have a LOT of felt left over. You can use it the same way you'd use acrylic or nylon felt from the craft store, just remember it is wool so it might be a little scratchy on bebeh parts.
Happy Crafting!
p.s. These are the stretchy cuffs from a couple of the sleeves. I'm thinking they'll make great headbands for a tiny baby girl – especially with a little felt flower sewn on.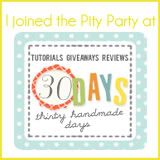 Tags: crafts, handmade, how to, knitting, projects, things I love, yarn