Nursery Rhyme Baby Shower
Since this was a second baby shower, I wanted it to be more like a kid-friendly tea party than a traditional guess-how-big-Mama's-belly-is/gift bingo/grown up shower. I also wanted it to be girly but not princessy, cute but not over the top, and to involve lots and lots AND LOTS of food. I actually stumbled into a nursery rhyme theme after reading Little Evan his favorite Mother Goose book for the bazillionth time (he specifically requests the "this little piggy" and "one, two, buckle my shoe" pages because they involve being tickled at the end). "Boy," I thought to myself, "there sure are a lot of baked goods in these nursery rhymes!"
And thus a theme was born.
I thought it would be super easy to just pick up some Mother Goose craft paper & fabric, grab a couple books from my shelf and be done with it but it turns out nursery rhymes are soooo 1900's and not very popular anymore so I had to improvise. But it all ended up coming together really well and only involved three trips to the craft store and two to Target with a day of online shopping thrown in for fun.
(click on collages to see them bigger – I know a lot of stuff is kind of too small to read but trust me, it's better than posting them all individually)
Decorations:
Adorable book-themed invites from Tiny Prints (free tip: ask around Twitter for discount codes – sometimes people give them to you and the invitations you thought were too expensive end up being just right.)
Baby Girl diaper cake done by the VERY talented Joanna of Raising Madison. She was a doll to work with and even made the cake fit my theme with the Farmer in the Dell animals.
Collection of geese (aka ducks I just called geese) on the mantle from Goodwill.
I found the adorable customizable pennants and gift tags in hedgehogstudio's shop on Etsy for only $5. I used the pennants (printed in 2 different sizes) to make "Welcome!" banners and one over the mantle that says "Rock-a-bye Baby". I used the gift tags as book marks for the nursery rhyme books I passed out as favors – an INCREDIBLY lucky find in the $1 bin at Target.
My original plan to just scan in pictures of each nursery rhyme from vintage books was cut short when I realized that probably broke about a zillion copyright laws and after a few minutes of trying to find public domain images I was ready to give up. Luckily, Etsy saved the day again with 20 2×2 vintage nursery rhyme illustrations for only $2.50. I cut them out & glued them to ribbon to hang behind the food table and attached the ones that matched the food to the food labels.
The tablecloths are all fabric ordered from Fabric.com.
The sparkly butterflies were in the 80% off Halloween clearance at Michael's.
Yarn wreath made by me: it's yarn scraps wrapped around a styrofoam form. Easiest thing ever – but REALLY time consuming to wrap all that yarn.
The blessing tree was an idea I saw mentioned on Ohdeedoh a few weeks ago and stuck with me – I used the same small book of craft paper (called Nana's Nursery, bought at Joann's) for the hanging tags on the tree as for the food labels and the backing on the nursery rhymes I scattered around as decorations.
The books on the mantel are a combination of my own from when I was a kid, my mom's from when SHE was a kid, a few I found at Goodwill and one special moving-picture book I bought especially for Baby Sandy.
The children loved the coloring book pages I found online and printed out, along with my box of 200 crayons. Many of them took their beautiful creations home as souvenirs.
And I just can't go without pointing out the tea and the plates/napkins are in (a tisket a tasket) green and yellow baskets. MY THEME WAS SO COHESIVE.
Food:
Menu:
Little Jack Horner Thumb Print Cookies (declared the most delicious thumb print cookies ever by all my guests & made by E so obviously not super hard – I think the secret was we used boysenberry jam because I couldn't find plum – recipe here)
Little Boy Blueberry Muffins (recipe from Tasty Kitchen – also made by E & his dad and also DELICIOUS)
Peter Peter Pumpkin Eater Pumpkin Cookies (recipe from Amy @ A Good Life)
That's What Little Girls Are Made of Sugar Cookies (bought the nursery rhyme cookie cutters on Ebay)
This Little Piggy Had Roast Beef Sandwiches
This Little Piggy Had None Cucumber Tea Sandwiches
Humpty Dumpty Deviled Eggs
Mary Mary Quite Contrary Garden Veggies
Jack and Jill Went Up The Hill To Fetch a Pail of Watermelon & Fruit
Peter Piper Pickled Peppers
Three Blind Mice Cheese and Crackers
Jack-a-dandy Sugar Candy (aka Smarties & Starlight mints)
Polly Put The Kettle On Tea
Punch and Judy Party Punch
And, because I am AWESOMELY AWESOME, I found a nursery rhyme that included wine: one of the middle verses of Old Mother Hubbard.
Erin (Wedding Erin for those who know what I mean) made this entire cake from scratch – the cake, the frosting, the fondant and the decorations. One layer was strawberry and the other was vanilla that she made with a no-crap actual vanilla bean. It was DELICIOUS. I've stuffed myself with cake every day since the shower and we STILL have some left over. I'm totally blaming Erin when my doctor announces I've gained 15 pounds at my next appointment.
Friends (really the very best friends anyone could ask for):
More than half the photos (and all the good ones) taken by Erin of Open Shutter Photography. She's not only my BFF, she's INCREDIBLY talented with both her camera and Photoshop and can make even a 35 week pregnant Sasquatch look pretty adorable. (You can like her on Facebook here)
Exhibit A:
Headband from TwentyFiveDesign, sweater is at Target RIGHT NOW (not even maternity)
Thank you again bunches and bunches and bunches to The Erins, my in-laws, and my friends who came. I hope you all had as much fun as I did. Oh and if you ever want to pay me gobs of money (or let me SPEND gobs of your money) to plan a party, just let me know. I'm available.
If you've read all the way to the end of this, you deserve a piece of cake. Come over and I will TOTALLY give you one right now.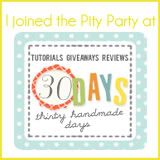 Tags: baby 2, baby sandy, baby shower, mother goose, nursery rhyme baby shower ideas, nursery rhymes, party, party planning, things I love