DIY Patio Makeover
At this point, I've talking about the NEW PATIO and the BIG REVEAL so many times I'm afraid this is going to be sort of a let down to everyone expecting a Yard Crashers style makeover complete with water feature and hot tub and 12-foot fireplace. It is not that crazy. BUT. If you consider this was all done in 1 week by hand by two guys, two women and a toddler, THEN it is impressive. Two guys, two women and a toddler, who, I might add, have never built a patio before. Now you can be impressed.
One more time, BEFORE:
AFTER:
BEFORE:
AFTER:
BEFORE:
AFTER:
Good changes, yes?
The rock wall for the side garden is built out of the flagstone that used to be in our walkways. All the plants in this garden were transplanted – either from my own garden or from my friend Merin's. The lights closest to the ground are actually solar powered. The lanterns on the poles are for candles – you put these little blue things in the top and they're supposed to repel bugs (I think the definitely help).
Dining table from Walmart, dishes/glasses from Target. The adorable "floating" shelf was the result of a joint brainstorming session, where E and I decided we needed a buffet for dinner parties. E made it out of scrap wood from our basement and attached it to the fence with chain I spray painted green. Then I used some tape and 3 more cans of spray paint to make the design. It folds up flat against the neighbor's our fence when we're not using it and can easily be removed and stored in the winter. Roses & hydrangeas are from my garden, displayed in tin cans (spray painted of course).
Seating set, end tables & throw pillows from Target, firepit from Home Depot. Throw blanket is from Pier 1. Flower pots are from various places (including some I already owned & spray painted). Tray (that I spray painted) and mugs are from Goodwill. See that dark purple vine in the blue pot? It's called "Sweet Caroline".
Did you enjoy my attempt at a Martha Stewart worthy photo shoot? It's been pouring rain for two days so everything is sort of damp and grey but it still looks pretty good. For a little reality check, here's the patio during dinner on Sunday night:
And now for my absolute favorite part of the patio: nighttime.
String lights are from Target and plug into a super handy outlet right inside the garage window. The fire pit actually gives off enough heat to make a cool night comfortable and is PERFECT for s'mores making.
In case you were wondering, the total costs of the project were:
$2016.26 for the patio itself, including all the supplies, tools, stone, sand, gravel and plate compactor rental. (Not included: lots of pizza for the workers).
$1841.77 for EVERYTHING else, from the furniture and pillows down to the candles and plants.
Grand total: $3858.03.
We estimate that if we'd hired someone to do all the work for us, the labor and material total (not counting any of the decor or furniture) would have been at least $8,000. It was a LOT of digging.
Special thanks to my mom and dad who did at least 50% of the work on this and only had one night to enjoy it. I can't wait until they come back again for more s'mores and wine on the patio.
Edited to add: You can see the much less glamorous doing-the-work photos and information here.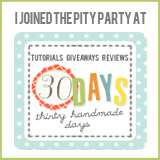 Tags: Caroline, DIY, E, family, garden, home improvement, little evan, patio, summer